Case Study: Castle Peak Power Station
| | |
| --- | --- |
| Location | Castle Peak Power Station– CLP Power Hong Kong Ltd |
| Access Purpose | Construction of Flue duct Chimney in Power Station |
Problem: The CLP Power Station site is complex, and rigging a working platform for access may seem like a daunting and impossible task at first sight. There are no points on the flue duct that may support the rigging.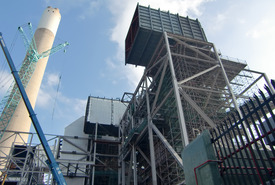 Solution: Under the urgent request of our client, Safewell designed a suspension system and successfully installed the system on the Flue Duct in the Power Station in under 5 days after the first site visit.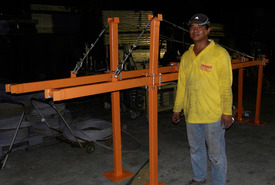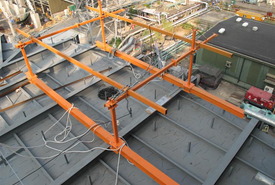 Safewell is the only gondola company in Hong Kong to meet CLP Power Station's stringent international safety and procedural requirements.
Pictures below show Safewell gondola being rigged at the power station for work access. Have fast access to the precise location enhances efficiency and saves time and cost for our client.